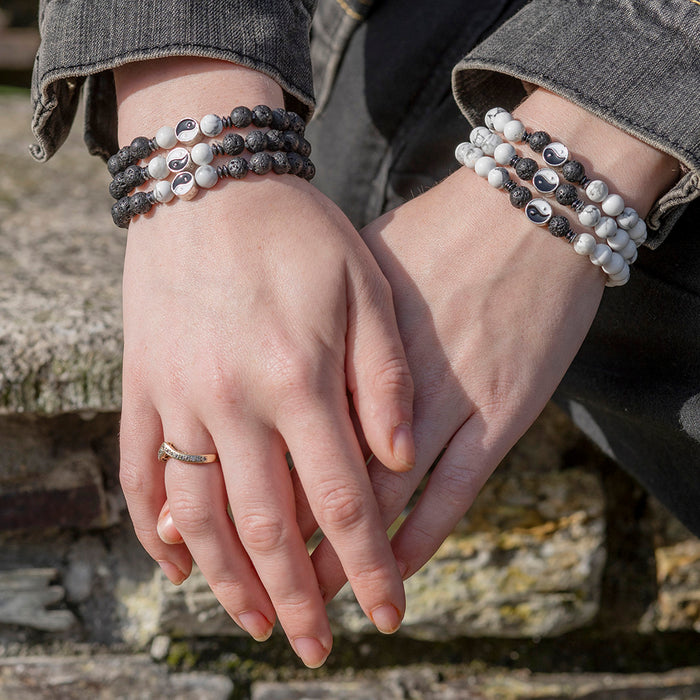 Yin-Yang Bracelet
Original price
$8.00
-
Original price
$8.00
Find your centre and inspire balance in yourself!
Good vibes at your wrist! Show your balance between life's dualities with these Yin-Yang Bracelets. Their bold design features a beautiful yin-yang centrepiece, reminding us of the perfect harmony between opposites. Take it with you and show everyone your enlightened style!
Choose between a dark Lava stone bracelet or a light Howlite stone bracelet. Each one features its opposite as part of its centrepiece so that no matter which one you choose you can find the interconnectedness of everything even in opposing forces of life.
Lava Rock is known for being a grounding stone that can balance emotions and bring about calmness and strength.  It's believed to help keep tempers in check and also help its wearer to work through problems in a logical way.
Howlite is a beautiful white stone that represents the spiritual qualities of stillness, tenderness and open-mindedness.  A calming stone, Howlite aids communication and sleep, facilitates awareness and encourages emotional expression.
Made on super stretchy elastic, each bracelet comfortably fits wrists up to 16cm, although there may be some variation due to the natural materials used. They come complete with a silver Disco Beads tag in an eco-friendly Disco Beads paper bag; perfect for storing them or as a gift bag for a friend.