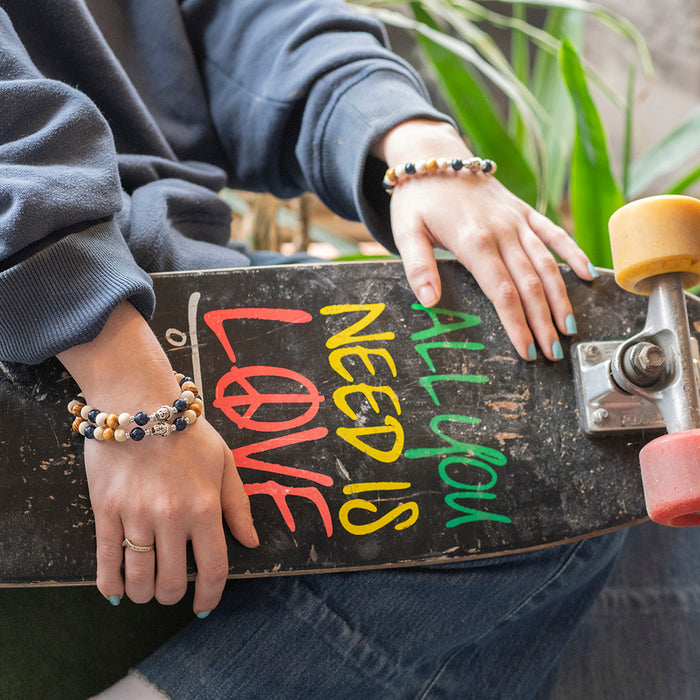 Shudda Wooda Buddha
Original price
$10.00
-
Original price
$10.00
No regrets, live in the moment!

Beautiful soft two-toned wooden Bracelet with added Disco Beads flair! Features a silver Buddha centrepiece and tassel.

Bundle offer! Buy 2 or more of our selected Autumn Collection bracelets and get them for just £4 each! Check out the full selection here!
Combining the natural tones of wood beads with our funky style, this simple yet statement Bracelet can act as a gentle reminder to be present in every moment. The beautiful colours of the light sandalwood and the richer rosewood are brought out with the darker Ink Disco Beads which make the colours standout.
Each bracelet has been made using 6mm beads on a sturdy elastic thread, and features a silver Buddha Bead and matching tassel to make this bracelet extra special.
Made on super stretchy elastic, these bracelets comfortably fit wrists up to 16cm, although there may be some variation due to the natural materials used. They come complete with a silver Disco Beads tag in an eco-friendly Disco Beads paper bag; perfect for storing them or as a gift bag for a friend.