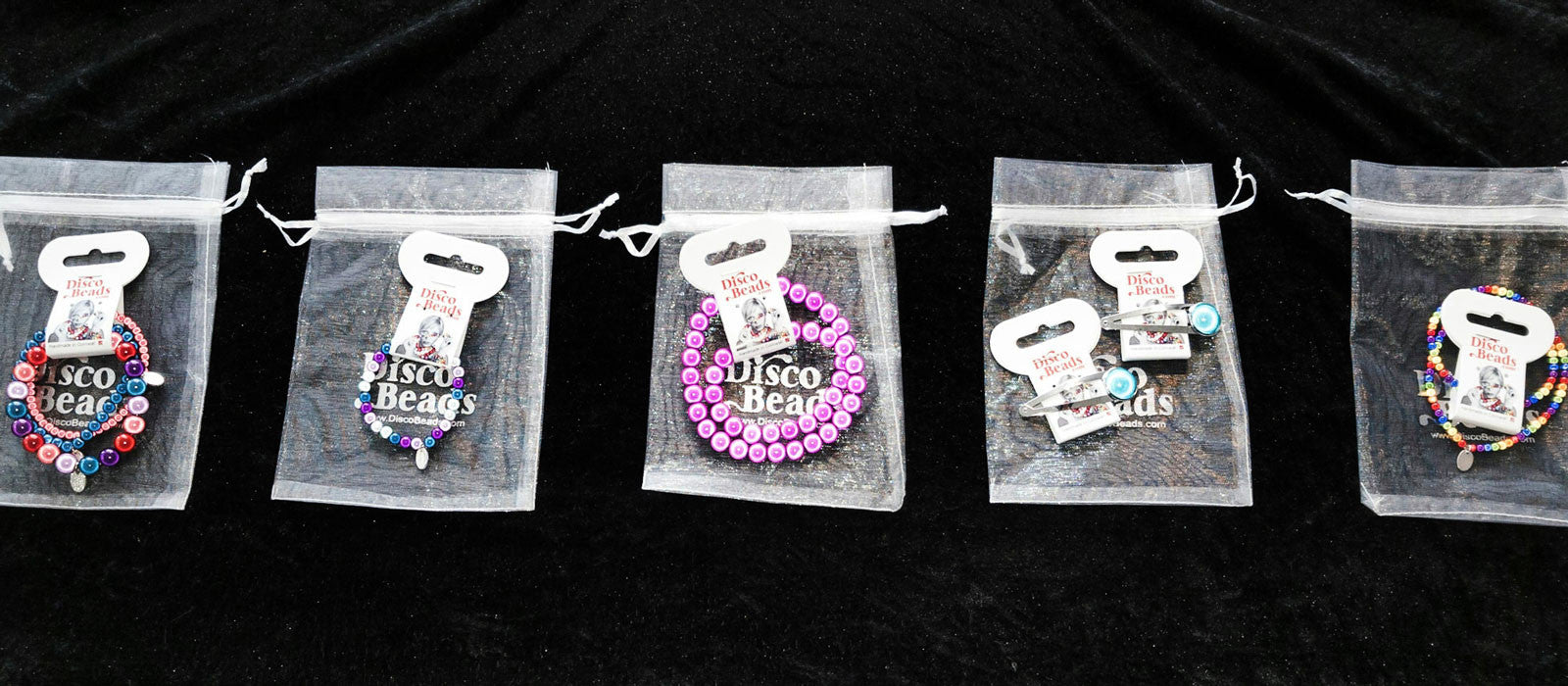 Upcycle your Organza Bags!
All of Disco Bead Products come packaged and bagged in a beautiful white logoed Organza bag and although these are really beautiful bags and make a great way to give out their products as gifts,...i'm making quite a collection of them!
I have sent some back to Disco Bead HQ as they can then reuse them, but if you wanted a more crafty way to up-cycle your bags, here is my Top 6 crafty ideas!
1) Organizing your jewellery
 I have got a HUGE collection of Disco Beads now and although a jewellery box is always helpful, mine is over flowing! As I arrange my wardrobe from Winter to Summer clothing I am being super organised and hanging my jewellery from my hangers on their matching outfits. Perfect for when you're late for work or in need of a quick outfit, it's all hung up for you with co-ordinated accessories ready to go!
2) Scent bags 
These little bags are great for lavender bags. If like me you hate the smell of lavender, try filling them with pot-pourri or herbs. At Christmas I filled mine with orange slices, cinnamon sticks and star anise for an instant festive room scenter!
3) Gift bags
When Easter is around the corner, try filling them with chocolates or sweets and giving them out as an inexpensive Easter treat. If you are a thrifty bride you could even use them as wedding favour bags!
4) Laundry bag
So the wash cycle is finished, you're emptying the washing machine, sorting the socks and you have miraculously lost one….you're now faced with nothing but odd socks! Try popping your socks into the organza bags then placing them in the washing machine for a tidy sock organizer - also works well with baby items, making those mini garments easy to find, or protecting your most delicate items!
5) Bird feeder
 Fill it with nuts and seeds and place outside for the birds, make a small cut in the bottom corner, just smaller than the nuts so the birds can access them
6) Party bags
Following on from a gift bag, a cheap inexpensive birthday present for a kids party is a £3.00 kids bracelet, pop a few extra treats in their organza bags like a balloon and  a sweet treat and voila...you have an instant stylish party bag!
Our Disco Beads ethos of reducing waste and doing what we can to help has now led to Disco Beads partnering with Eden Projects. What this means is EVERY time an order is placed online or instore, we pay for a tree to be planted! Find out more about Eden Projects work here!
This week we have added a button at the checkout to reduce the amount of Organza Bags and TAGS you receive! All you have to do is TICK the box at the check out and we will pack your order with LOVE and CARE as usual, but just use less organza bags and paper tags. 
So...Get Creative,
Happy Upcycling!
Big Love
Josie
x