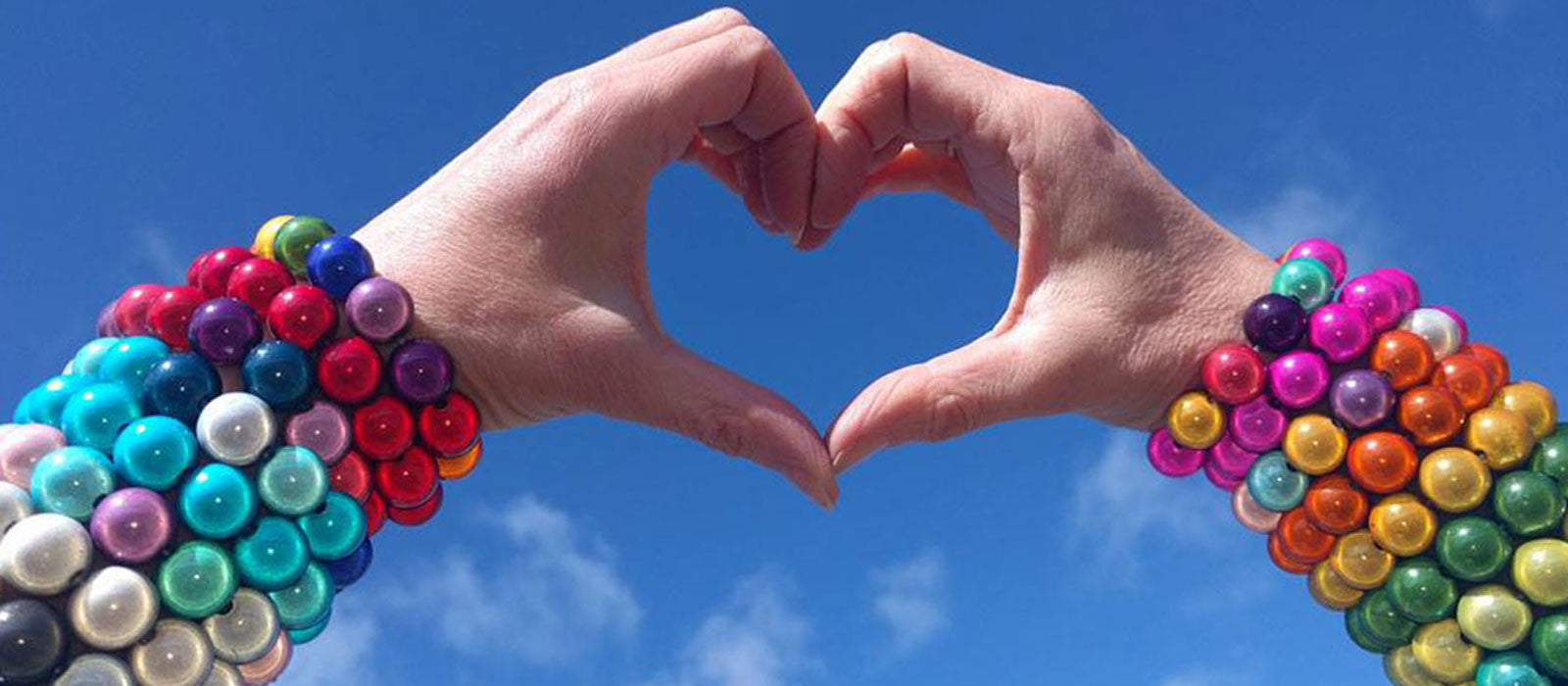 The Fantabulous World of Fairy Seconds!
Because of the unique nature of Disco Beads, with their magical mirror layer and special lacquer coloured coating, their is the possibility that occasionally there is a slight imperfection in the finish.  This can be that the mirror is partially revealed, or there is a thicker area of lacquer which gives a slightly rough feel, or perhaps a small blob of lacquer accumulates in one place forming a lump.
Sometimes different batches of beads have a slightly different colour, and of course these can't be mixed together in the same item so some other beads are rejected.
Our lovely Disco Fairies have super trained eyes that can spot an imperfection or a dis-colouration a mile off!  As we  are committed to providing the highest possible quality of finish and service, the Fairies are trained to reject any 'naughty beads' and replace with a better one when they are making jewellery stock for the drawers.  
When picking orders from our stock drawers, there is a second check to ensure that only the best quality product is chosen, then our dispatch team who parcel up the order also check the quality of every bracelet, necklace and anklet!
Three times the Disco Beads are checked, and if any Fairy is not 100% happy with 100% of the Disco Beads in the finished product then into the Fairy Seconds pile it goes!  
This means that over time we have a growing collection of finished jewellery that doesn't quite make the Disco Fairies stringent grade, and also a pile of 'naughty beads'  waiting to be recycled into something for someone to love....and that means we can offer them at special times of year at a special low price!
And so Voila...this year we have Fairy February!  As a special month of treats when none of us have many pennies after the big splurge of Christmas, we can offer a super bargain!  And the truth is that our Fairies are very picky, and having done various customer tests we have discovered that most people can't even tell the difference!
So now you know, whenever you see the name 'Fairy Seconds' it means that maybe one or more of the beads in that item have been considered 'naughty' and rejected by a Disco Fairy.  But that doesn't mean anyone else will know which one...in fact we challenge you to find them!
The rest of the production of the jewellery has been done to exactly the same standard, handmade and finished according to our patterns and designs, but what they don't have is an Organza gift bag.  That means we can do them at a super value price....so everyone's a winner!
So what are you waiting for....fill your boots! ;)
You can find the Fairy Seconds Here
Love the Disco Fairies x