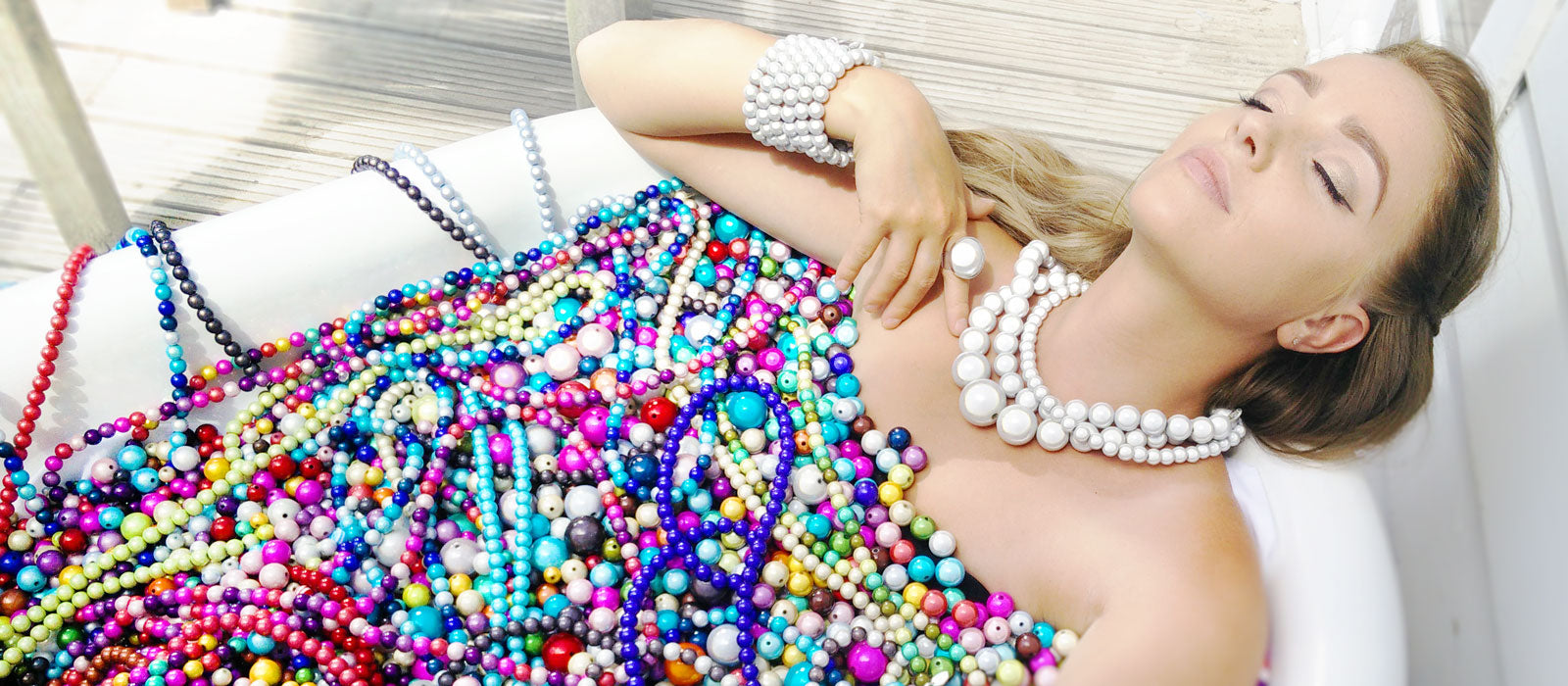 Summer Jewellery Guide!
When it comes to the Britsh Summer, you never know what you might be in for...and choosing the correct outfit and matching jewellery can be a guessing game!  
If you are going to brave a Cross-over, Scoop neck or Cowl neckline, then they will all benefit from a short necklace that sits on your collar bone.  Disco Beads Fine Short   or Super-Fine Necklace is perfect for this, either in a single colour or a colour scheme to match your palette and is a staple for every Disco Bead lovers jewellery box!  
When you are feeling the heat and want to wear something really lightweight and floaty, then a simple, elegant and understated surfer style Ultra-Fine will provide a light touch.
An alternative look would be a short length pendant to sit framed within the neckline of the top.  Our Tiger Wire choker with a Sugar Skull Cornish Pewter Pendant is the perfect example of this!  Why not make a statement with your jewellery?
If it seems as though the sun is well and truly out and you are daring to bare with a strapless number, then a Choker is the ultimate choice to set off the outfit whilst leaving your skin to do the talking!  Perhaps that  low cut dress can make an appearance,  then a Chandelier style necklace or a voluminous pendant will fill the space whilst drawing attention to your cleavage!  If you've got it, flaunt it baby! 
When the rain cloud are threatening and you fear a cool day, then  a high collar can  use a statement chunky necklace such as our Mini-Grad, Vintage or R and B Collections. These are vibrant collections that pop up from time to time with special pieces that combine mixed size Disco Beads with feature glass, fabric and glass, never the same twice!  They will draw the eye regardless of the swaddling!
 Anklets are the best selling item on  our website and in our flagship store by the beach at this time of year.  The Anklet bundles are brilliant value and look great alone or layered, with mixed pattern and single colours that compliment each other. Snow white will always be the best seller though...probably because it goes with everything and REALLY enhances that tan!
Our recent special 'Tanklets' (toe anklets) sold out within hours this Summer, adding that Goddess bohemian look with chain links between the toe and the ankle and a feature Disco Beads drop.
Remember that bracelets and rings will add a little something extra regardless of the time of year or the style of dress.  Big Bubble Bangles and Rings will stand out and dress up any outfit any season, layer up with the matching Bracelet Bundles for a smart or a casual outfit and to make the most of the 'Festival Chic' look.
'Like' our Facebook and  page or sign up for our newsletter and you will always get notifications of the many special offers, competitions and giveaways that we run throughout the year! This weekend we are offering £2 off our core line Ultra, Super and Fine Bead Necklaces...just use code SUMMER!