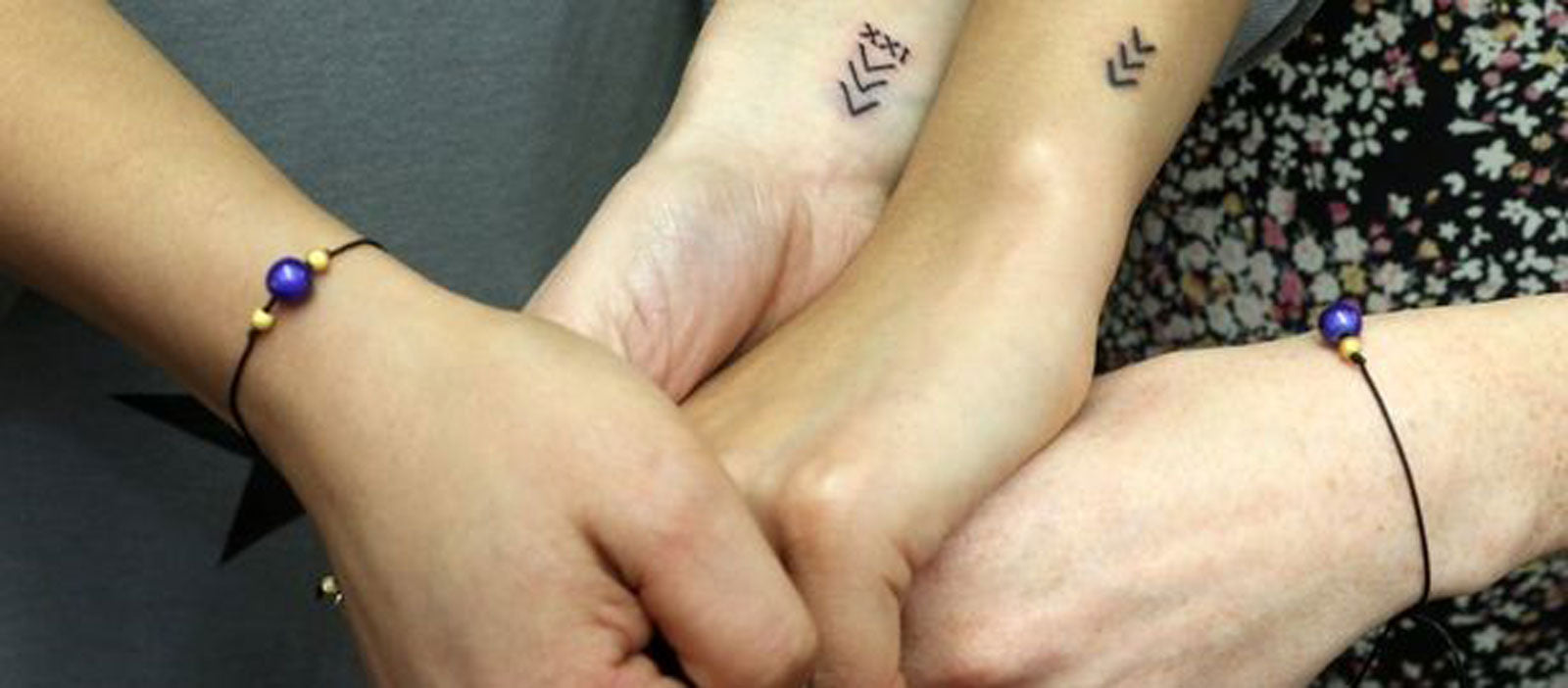 My Lucky Few Tattoo!
I got my first ever tattoo at the ripe old age of, well let's just say early forties! When I told my other-half I was going to get the three-chevron tattoo, he thought I was having a mid-life crisis and my parents weren't very keen either. But I am very passionate about the meaning behind my tattoo and how it supports and raises awareness for those with Down's syndrome.  The tattoo reflects our children and the support we give each other in our local support group.
Photograph by Cornwall Live (Image: Sally Adams)
What is the Lucky Few Tattoo?
The design was created by Mica May, a mum in America who has a child with Down's syndrome and who saw the arrows in a dream but did not initially understand their significance.
Children with Down's syndrome, also known as Trisomy 21, are born with three copies of the 21st chromosome.  It is this addition that means they often have developmental delay and can put our children at a greater chance for certain health conditions.
Mica and three friends had matching tattoos of the symbol last year and called the tattoo "the lucky few" after a book about Down's syndrome.  It was then that other mums pointed out its symbolism and suddenly it became a global movement #theluckyfewtattoo.  
Not only is it about the three sets of chromosomes but the arrows are about rising up and moving forward.  
"We fly the highest after we have been pulled back and stretched, sometimes even more than we think we can bear."
The post by Mica May that started it all (Image: Mica May)
When a video of Mica's story started appearing in our social media feeds, members of the Cornwall Down's Syndrome Support Group (CDSSG) all started tagging each other with a half-joking 'let's do this to celebrate World Down's Syndrome Day' (WDSD) and within a few hours we had created a messenger group and were messaging one another asking who was in and there were lots of comments of 'me' and 'most definitely'.
I have two children, the youngest Noah, 6, has Down's syndrome and I am a committee member of the CDSSG and I really wanted to help raise awareness and show support for other families within the DS community.
Please excuse the left-over meal on Noah's cheek, but isn't he such a handsome little man!
Noah is a delight to be around and is such a brainy, caring, cheeky, curious, cheeky, funny, enthusiastic, incredibly handsome, lovable, sociable, sporty little boy with oodles of charm and charisma.  He attends a local mainstream school along with his big sister and family life is quite dare I say it 'normal' or as normal as it can be with two under 10-year-old siblings!
Photograph by Cornwall Live (Image: Sally Adams)
On Monday 5th February 2018, myself and parents from the CDSSG, along with other family members and a young person themselves, spent the day together at Black Ink Rebellion studio in Newquay, where tattoo artist Wayne Roberts opened the studio exclusively for us.  Over the course of seven hours, he and fellow artist John Dimery created individually tweaked designs all incorporating the three arrows stacked on top of each other.  The day was full of excitement and a few nerves, I admit that I was chomping on Haribo Jelly Babies for the whole 5 minutes that I was inked!  The experience was incredible and to share it with my extended family at the CDSSG made the day such an emotional and memorable one.  For those of you who think we jumped on the bandwagon, none of us made this decision lightly.  I absolutely love everything about my one and only tattoo the meaning, and its simplicity. 
A massive 'Thank You' to Black Ink Rebellion for hosting the mass inking and donating their time for our charity!
My #luckyfewtattoo is beautiful! 
Me - Kim Milnes-Barker (on the left) and Ginette Davies (right) with our first ever tattoos!
My family and I joined the Cornwall Down's Syndrome Support Group when we arrived in sunny Cornwall over three years ago and I am an active member of the group.  The CDSSG is a parent volunteer-led charity that is self-funded.  I help in any way that I can and more recently I started to assist with fundraising. 
My love of Disco Beads and having the local DB shop nearby I approached them to see if we could collaborate and create a charity bracelet which would help to raise awareness and funds for our group.  The answer was unanimous and our WDSD friendship bracelet was born just over a year ago.
A simple but very elegant bracelet that is simply tied to the wrist with a double knot or alternatively tied in a bow to make it easier to put on or off. Disco Beads are Funky and Reflective, so take a photo with a flash to see the magic!
£1 from every bracelet sold goes to support the great work we do at Cornwall Down's Syndrome Support Group.  The CDSSG is a parent-led group which offers support to families and carers of those with Down's Syndrome living in Cornwall and has been established for over 20 years.  We hold regular support groups, organise training courses and workshops, organise family events and much more.  We offer families a chance to meet, socialise and share information, friendship and support.
Order your own beautiful bracelet here
https://www.discobeads.com/collections/bracelets/products/downs-syndrome-awareness-bracelet
 Find out more about Cornwall Down's Syndrome Support Group at www.cdssg.org.uk.
World Downs Syndrome Day! (WDSD)
The Down's syndrome community celebrate WDSD on the 21st day of the third month to replicate chromosome 21 on the Down's Syndrome Karyotype map shown below.   We celebrate the day in all sorts of ways and many wear funky, brightly coloured, mismatched socks to help raise awareness, show support and promote inclusiveness for those living with Down's syndrome. 
What is Down's Syndrome?
Down's Syndrome is caused by the presence of an extra chromosome in a baby's cells.  In the majority of cases, Down's Syndrome is not an inherited condition.  Down's Syndrome usually occurs because of a chance happening at the time of conception.  A person with Down's syndrome has forty-seven chromosomes instead of the usual forty-six.
What causes Down's Syndrome?
As yet we do not know what causes the presence of an extra chromosome 21.  It can come from either the mother or father.  There is no way of predicting whether a person is more or less likely to make an egg or sperm with 24 chromosomes.
There is a definite link with advanced maternal age for reasons yet unknown.  However, most babies with Down's Syndrome are born to women under the age of 35, as younger women have higher fertility rates.
What we do know is that no one is to blame.  Nothing done before or during pregnancy can cause Down's Syndrome.  It occurs in all races, social classes and in all countries throughout the world.  It can happen to anyone.
People with Down's syndrome all have a certain degree of learning disability. This means that they develop and learn more slowly than other children. However, most children with Down's syndrome today will walk and talk, most will read and write, go to mainstream school and look forward to a semi-independent adult life. Down's syndrome is not an illness. People with Down's syndrome do not 'suffer' as a result of the condition.
With early intervention from parents and professionals and continued stimulation throughout life, most people with Down's syndrome will achieve well beyond former expectations.
How Common is Down's syndrome?
On average, two babies are born with Down's syndrome each day in the UK. For every 1000 babies born, one will have Down's syndrome.
Although the chance of having a baby with Down's syndrome rises with maternal age, the majority of babies are born to younger women, since the overall birth rate is higher in this age group.
For more information about Down's syndrome visit :  https://www.downs-syndrome.org.uk