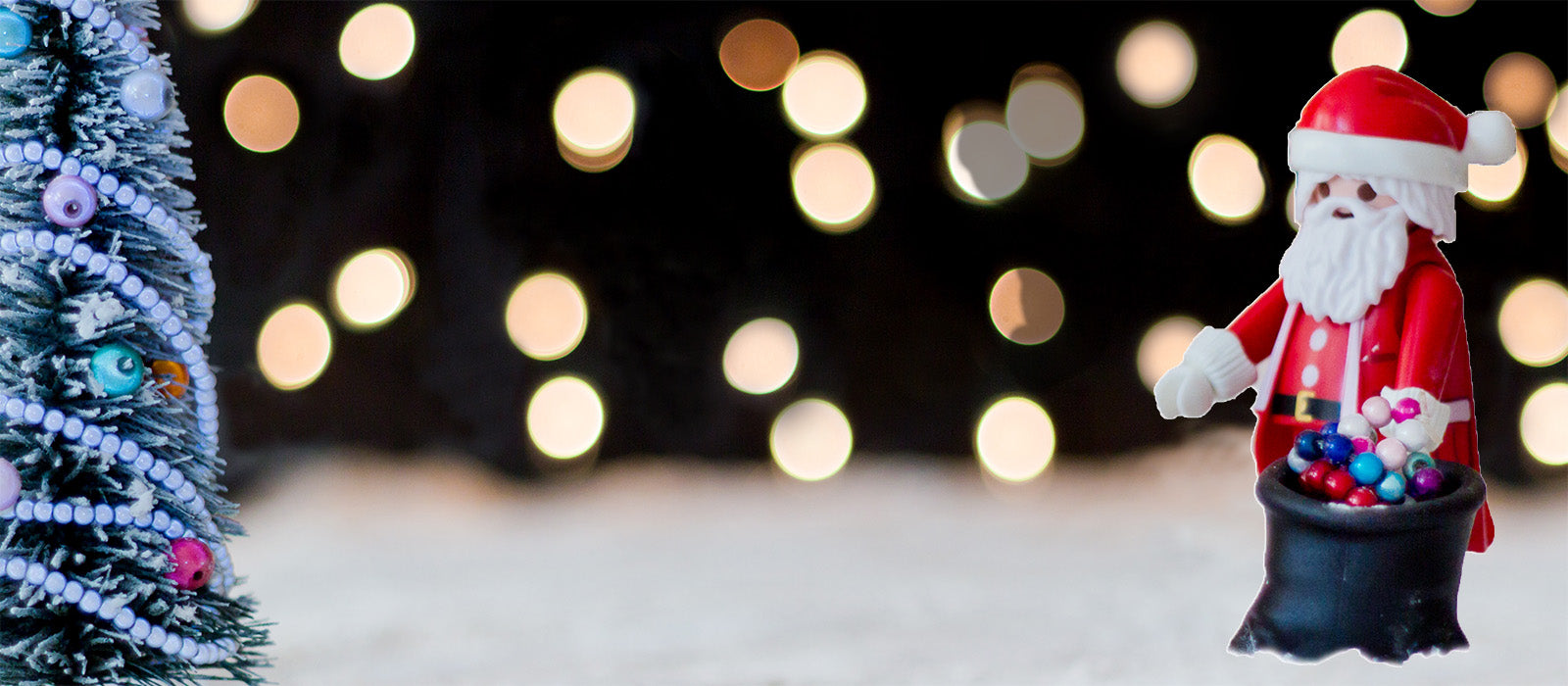 Deck The Halls With Lots of Colour!
You should know by now how much we love colour. Well you can't get more colourful than Christmas! Deep sumptuous reds and greens are the traditional colours of course, but these days, anything goes, and the brighter the better! Who doesn't love strings of fairy lights and sparkling silver tinsel draped round a tree dripping in brightly coloured baubles? Granted some do go a little over the top these days when it comes to exterior illuminations, but we have to admit, they still make us smile.
 
So where did it all come from, this idea of filling your home with a pile of festive bits and pieces that only appear once a year? Let's go back to basics and start with the Christmas tree. Way before one was introduced into the home, before Christianity even, people believed that hanging boughs of evergreens on your door protected you from evil spirits, witches and illness. Pagans believed that celebrating green during the winter months would encourage the return of green in the spring. The Ancient Egyptians used green palms to celebrate the triumph of life over death. Even the early Romans marked the winter solstice with boughs of evergreens as a symbol of everlasting life.
 With the perceived power of the evergreen seeped in thousands of years of history, it's no surprise that when Christmas started to become a larger celebration, an evergreen was the tree of choice. Germany is credited with kicking it off in the 16th Century when trees were hung upside down from the ceiling using chains. Over here, in 1841 it was Queen Victoria who really got the Christmas look going when Prince Albert had a tree erected at Windsor Castle, and a drawing of the Royal Family was published in the Illustrated London News standing around it. Suddenly, everyone wanted one! Cut to now, and we consume a whopping 8 million trees a year. Interestingly, most 19th Century Americans thought putting a tree up in your house rather odd, and as late as the 1840s they considered them 'pagan symbols'. The US now leads the way with over 40 million Christmas trees sold annually!
Moving onto decorations, again the Germans are credited with creating a fair few of them. Take tinsel, for example. Invented there in the early 1600s, it was originally made out of real shredded silver until they realised the candles on the tree (yes, they used real candles!) turned the tinsel black, so they decided to use tin and lead instead.
Once again credited to Germany, it's the bauble that really got things going. Originally made in the shape of fruit and nuts out of glass, it wasn't until the spherical shape and mass production came into play that they became accessible to those other than the wealthy. Bearing in mind the Americans were a bit late to the party, such was the take up of the bauble that by 1890, American retailer F.W. Woolworth had made $25m importing them. Bearing in mind $1m then would be worth $27m now, that's an awful lot of baubles!
As for the twinkly fairy lights, they had first appeared on trees in the middle of the 17th Century in the form of small candles, but the idea of using electric lights came about when, in 1882, an associate of Thomas Eddison (inventor of the light bulb) hand wired 80 red and white bulbs. Then, much like Queen Victoria selling the concept of the tree, lighting one up took off in the US after the President at the time, Grover Cleveland, put up a lit tree in the Whitehouse in 1895. Originally though, if someone back then wanted to do the same, they had to be fitted by a 'wireman'. Imagine if one of those wiremen could see what we get up to now with lit up reindeers and fat Santas prancing over the rooftops, and whole shopping streets full of them!
Nowadays, we decorate our trees with all sorts of festive favourites, so long as they are glittery and colourful, which brings us onto our special twist on the Christmas decoration. Ours don't just sparkle, they're reflective! We're especially fond of our take on the Robin (another traditional Christmas favourite), and he comes in all our colours so you could go even more personal, and choose one with that's your birth month colour!
We think the most beautiful thing about Christmas decorations is the fact they come out year after year. Some of us even have decorations hanging on the tree from our childhood, and nothing makes us Disco Bead Fairies happier than using things over and over. Every year, when that magical Christmas decorations box comes out, so do a whole load of Christmas memories.
So, from carved wooden angels to stars to cheery reindeer, we've got something to brighten up everyone's tree! .